I recently had an opportunity to return to the American Embassy School – New Delhi to take part in a retirement celebration for a fellow colleague and mentor, Bob Hetzel.  Below is the speech that I delivered in Bob's honor.
I would not have missed this evening for anything! Thank you Lahta for keeping me in the loop. Please excuse me if I exceed my two minutes, but it's a long flight from Frankfurt and I have a lot of fond memories that I've been pondering on the plane!
First, let me say that it's good to be "home." Home is many things to many of us. It might be where we grew up, where we started our own family or where our parents are living.
Bob is of course an educational leader. But in many ways, he is also a parent. He has been a parent to this community as a whole and to many of us at some stage in our careers – particularly when we actually started listening because we realized a parent had something valuable to share. Very unlike being a parent of an 8th grader, which is my current calling in life!
I have two quick stories to share…
#1: In my most difficult hour – the Mumbai attacks:
2 parents were killed who had 3 children at the school
3 teachers lost brothers and sisters
A car bomb went off near where we all lived
Fear gripped the community
I won't go into all the details of this tragedy, but I was fortunate to have an absolutely incredible faculty and leadership team. That time was full of despair, hope, and recovery. Throughout the process I had many conversations with Bob, who sent us his AES counselors and support.
But there was a "Tipping Point" communication that had to happen. I had to get the community back to school and feeling safe. I needed to write a letter to our parents and the first thought that crossed my mind was "How would Bob handle this situation?" I remembered how he would sometimes inject a poem into his communication to the school and I found one that I felt would instill confidence in our community.
The poem I used was about overcoming fear – once the winds of fear are allowed to continue, the leaves of the tree shake, then the branches and then the trunk. We as adults needed to stop the winds of fear and get back to school. Channeling Bob apparently worked because on the Monday after the attack, 93% of the students were back in school.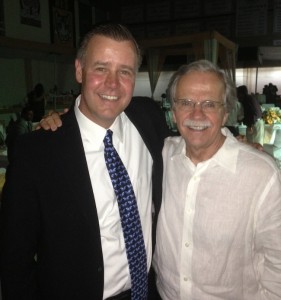 As a principal, I watched and listened to Bob and tried to soak up as much of his leadership parenting that I could.  I know that I am among many educators around the world that go to that reservoir of wisdom that was made available to us working alongside Bob Hetzel.
While my first story was about Bob's ability to inspire confidence amid stormy seas, the second is his ability to encourage others to set sail for promised lands.
We all know that the pursuit of dreams is something we aspire to as individuals and is a lesson we hope to teach our own children and students. Many of us fall into the trap of expecting our children or students to follow a path we lay out for them to make life predictable. But not Bob. His values are not just words but are lived out in his actions.
When his son came to him and wanted to pursue his dream of snowboarding, Bob sensed his son's passion and showed his belief in him by promising his support for a year so that his son could realize his dream. My own son knows how this story ends because he was with me in a snowboard shop and together we looked at a "Hetzel Board."  My son and the salesperson were both wide-eyed with amazement because we knew the Hetzel behind the board.
I could go on and on with stories, but you are here because you know Bob and therefore you know that his life is a string of stories about a man whose actions speak volumes about his integrity and leadership.
I will close not with a poem, but a book. I am sure you all know it, so I'll just share a few key points:
Once there was tree
The boy would gather the tree's leaves
They would play and rest under the shade
One day, the boy cut all the branches and went away
In the end, the tree was happy
Bob, thank you for all you have given and continue to give to us, allowing unconditional access, support and guidance. You leave AES having "parented" school communities directly or indirectly around the world. Thank you for being a Global Giving Tree.