If someone were to have told me that in 2020 we would all be playing a special role in history, some pretty cool things would come to mind. Maybe one of our students would have made a monumental discovery that future generations would refer to as the "FIS Principle." Or maybe I would have been recruited to lead the
first International Space School orbiting Earth. And yet, without any of us having seen it coming, we have all become an active part of history in one way or another, as we've been pulled into this pandemic of historic proportions.
On Friday 5 June, after more than eight weeks of school closure and a gradual reopening of our campuses, FIS made history, too, in honoring 136 young men and women from the Class of 2020 during the 54th Graduation Ceremony of Frankfurt International School – in-person and here on the Oberursel Campus. As one of only a fraction of schools in the entire world hosting an in-person graduation ceremony this year, arriving at that moment was in itself an incredible accomplishment. But honoring our students during the ceremony was the real reward for our graduates, their families and our community as a whole.
No generation of FIS graduates have had so much taken away from them while at the same time being asked so much. Taken from their senior year was a horde of trips, plays, recitals, sports competitions and social events. And while many of these critical Grade 12 events and exchanges with friends came to an abrupt stop, the academic work most certainly did not. It would have been understandable if some of our students had decided to simply give up, to throw in the towel and say that too much was being asked of them. But not a single one of them did. Not one.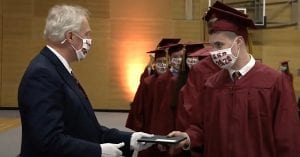 The ways in which our students have supported one another during this crisis, helping others to learn and grow – and even smiling on Zoom during the most difficult of days – show their strength, their determination and their spirit. My son is also part of FIS' Class of 2020, and like many of our graduating seniors' parents, I struggle with the reality that we are sending our children out into a world that continues to pose so many uncertainties. In the history of our school, no graduating class has had such uncertainty awaiting them. And yet, I believe that our graduates are well-prepared for the challenges that lie ahead and will likely discover that in times of uncertainty we often have the greatest opportunity to impact the lives of others and make a difference.
Our seniors have made our school incredibly proud and I have no doubt will continue to do so as they embark on the next stage of their journey. Congratulations to the Class of 2020!
If you are interested in reading my full commencement speech to the Class of 2020, please click here.